Invest in Yourself!
If you are wondering about the cost of full mouth implants, you are not alone. That is the first question patients ask.
While getting a full mouth implant treatment can be an investment, it saves you money in the long run. It's a lasting investment than can protect your jawbone, health and smile.
At your complimentary consult, our team will go over cost estimates and payment options.
Our treatment co-ordinators can work with your budget to get you into a treatment plan.
There are no hidden fees nor surprises at the end of treatment. Everything with the costs will be explained upfront.
GreenSky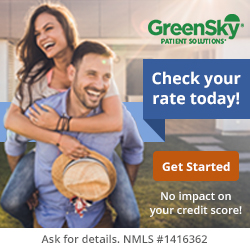 We offer GreenSky Patient Solutions as our primary means of financing. With GreenSky, patients can easily check their rates and get started without any impact on their credit score. This allows our patients to afford most of our treatments and get on a flexible payment plan that works for them and their budgets.
Proceed Finance
We're also proud to offer Proceed Finance as a financing option for our patients. You can also see your loan rates for Proceed Finance without impacting your credit score. With low-interest rates and low payments, you can afford to invest in your future.
CareCredit

You can apply online via Care Credit for financing for any of your dental needs. CareCredit lets you begin your treatment immediately – then pay for it over time with low monthly payments that fit easily into your monthly budget.
Medicare
Dr. Bhakta is a certified Medicare provider and can work to get some of your Teeth-in-a-Day treatment covered. He is one of the few providers in the state. You must come in for a consult to see if Medicare will pay for your treatment.
Medicare does not cover "dental issues," but it does cover jaw inflammation, infection, resorption and inability to chew food – all of which require a new set of teeth. So, while not all dentistry is covered by Medicare, it may be covered under medical necessity.
Call us today for a complimentary consult and to go over your costs.